Published : DNA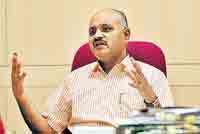 Traffic police personnel stationed near traffic signals are only allowed to book motorists driving rashly or jumping red lights, additional commissioner of traffic Praveen Sood clarified on Wednesday. The officer made this statement following complaints of traffic police personnel stopping and checking vehicular documents in such areas, causing jams in the process.
Admitting that such exercises may result in disruption of the traffic flow, he said, "Police personnel deployed for enforcement of rules near signals are not allowed to stop vehicles for any reason other than jumping traffic lights and negligent behaviour, which includes talking on the phone while driving." Any traffic policeman, who is caught stopping vehicles for reasons other than these, is liable to be punished, he said.
Stating that he has given strict instructions to his staff to book cases of rule violations and negligent driving, Sood said that at least five enforcement cameras, apart from 80 surveillance cameras, have been installed at traffic signals to apprehend offenders.
"Persons caught on camera will be issued notices," Sood said. Strict action will also be taken against motorists who park on zebra crossings, break lane discipline and violate other rules, he added.
"But then, if motorists come across any erring policemen, they may come to my office to lodge a complaint or register it on the Bangalore City Traffic police website:http://bangaloretrafficpolice.gov.in,"
1,841 total views, 2 views today