On any given day, nearly four million people follow and interact with Bengaluru police on Facebook, Twitter, WhatsApp, and other apps. Instagram and YouTube will be the latest additions as the city police invests heavily in technology to reduce response time and to track first responders live.
Bengaluru's police, which has taken the tech policing concept to a new level with its vibrant social media intervention, is soon going to be active on Instagram and YouTube.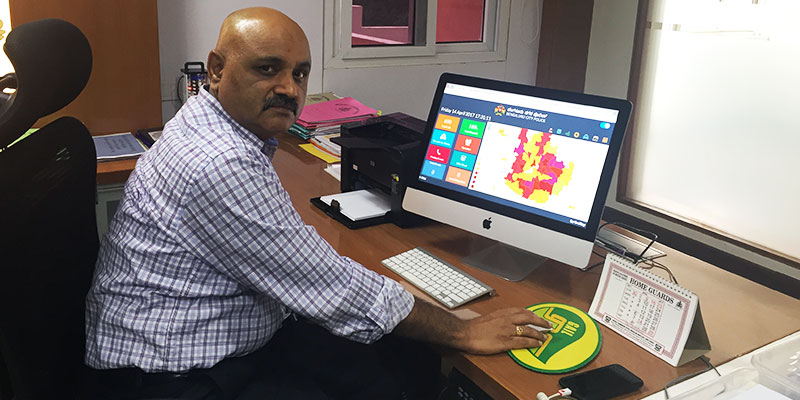 Bengaluru City Police Commissioner Praveen Sood tracking the performance of his uniformed personnel on a real-time basis from his desktop.
The city police boasts of nearly four million combined followers, who at least once a day go through what they put out—be it traffic alerts, action taken against criminals, posting initiatives, greetings, or rules to follow.
The police's presence on social media is robust, as it also actively engages netizens with replies, retweets, shares, and even takes up cases suo motu based on what people put out on social media posts.
The Bengaluru City Police FB page is followed by 5.2 lakh people and the Bengaluru Traffic Police page by 4.54 lakh and counting. Their Twitter handles are also hugely popular with @blrCityPolice having 6,03,000 followers and the traffic police @blrCitytraffic having 3,23,000 followers. The handles have been in action from August 2012 and September 2013, respectively, and have grown in popularity.
City Police Commissioner Praveen Sood declares: "For the police, reaching the public is a challenge. Through technology, we are able to communicate and reach more people in a metropolis where the population is 11 million."
Sood says the police communicates with users through various modes. Some of the officers, too, have a huge following, like Sood himself, who is followed by 8,10,000 Twitter followers at his handle @cpblr and Deputy Commissioner of Police (traffic east) Abhishek Goyal who has 82,000 followers while his personal handle has 38,000 followers.
"We use social media extensively as Bengaluru is a young city and has a high number of people embracing technology. We are on Facebook, Twitter, WhatsApp, phone, and will shortly be on YouTube and Instagram."
Tech policing
"We are adopting what is called the 'tech policing' concept. We have taken up social media to communicate with people. As for the police, reaching the people is the biggest challenge—in normal times as well as in emergencies. In normal times, the police would like people to avoid certain routes as a VVIP may be arriving and therefore help people time their movement on such roads better. Or during sudden riots when anti-social elements spread rumours, police use social media to reassure citizens," says Sood.
There are other ways for the public to interact with the Bengaluru police. There is a Dial 100 app and the recently introduced Suraksha safety app which has already been downloaded by 8,000 Bengalureans and counting.
To leverage social media, the city police has hired experts and outsourced social media activities. Regular followers have even complimented the cops on the quality of messages, their tone and tenor.
Videos, the way forward
Recently, they uploaded two videos—one on drunken driving and the other on towing as these two are major pain points for the public. "Both went viral and we received a huge number of likes and comments for them. The video on drunken driving contains a message not to be afraid if a policeman flags you down to check for drunken driving. It has the steps that the traffic police have to follow and what the legal or permissible limit of alcohol intake is," explains Sood.
No need to visit a police station
The police want work done for the public without having to go to a police station. For example, the Bengaluru police e-lost app is one such where citizens can lodge complaints of small but dear losses. Around 1.20 lakh complaints have been registered on it so far—which means 1.20 lakh complainants did not have to go to a police station to lodge loss of phones, wallets, documents. The e-lost app will generate an FIR online which can be printed and is recognised as a valid document even to apply for duplicate education certificates.
The Bangalore Traffic Police social media sites are very popular with users and they also have a 'public eye' where members of the public can upload photographs or videos of traffic violators, on the basis of which the police take action.
Sood says technology helps in routine work without physical interaction. "We want to change the police culture and that of people's attitude towards the men in uniform."
Route to police station
The Bengaluru police is also launching an app called Know My Police Station. In a first for the country, it allows users to set their location and immediately know the jurisdictional crime or traffic police station. This app directs users to the police station from the given location by showing the route!
The city police too was the first to introduce PoS machines after demonetisation to collect traffic fines.
Outsourcing call centre
The Bengaluru City Police is also expanding and outsourcing its control room based on the Madhya Pradesh and Uttar Pradesh experiment where the police has outsourced to private agencies.
"The concept is simple. We are expanding the police control room phone number 100 to 100 lines. Currently, we have only 20 lines and there is a huge delay when it comes to response. With 100 lines from different telephone companies, people in distress can call from any telecom operator they have subscribed to and the call will be answered within 15 seconds. We will also call back in case there are missed calls."
Earlier, policemen manned the control room number in shifts and there were complaints of huge delays and calls not being answered or not getting through.
Sood says,
These policemen will all be shifted out by the end of this month as they are trained for policing and not answering calls. This activity is being completely outsourced to a private company and police officers on duty at the control room will be the decision-makers as to what actionable process to take next.
In the same way, a police control room vehicle, named Hoysala in Bengaluru, will be despatched to the scene, if needed, within 15 minutes of receiving a distress call. These first-responder vehicles were earlier attached to respective police stations but now have no such jurisdictional problems and once the mobile cops arrive, they will deal with the issue themselves or escalate it further to senior policemen as the control room will be in the loop.
All these changes will be open to third-party audit as the Bengaluru police is becoming very quality conscious.
The police commissioner wants the people in distress to dial the number 100 only for any help and the person who answers the call will decide what further action has to be taken. As every Hoysala vehicle is tracked live, the call centre will be able to keep track of the entire process from call to closing the complaint.
Reducing response time
The police commissioner and his team is working hard on reducing the response time, and all this activity is being monitored live on their desktops.
Sood explains that an average call to the number 100 contains 3.55 minutes of conversation. "This is because we Indians are genetically loquacious and don't come to the point immediately. Often they quote some senior officer or politician they know and then only tell the operator what the problem is, forgetting that this line does not need influence for action and is meant for those in distress! For this reason, it takes the person who attends the call 1.02 minutes to decide on what action to take next. And, if a Hoysala is then despatched, the day's average response time per Hoysala stands at 17.10 minutes as of today. We want to bring it down to less than 15 minutes, but it is very tough," he says.
Even as we speak, two policemen who took 32 minutes to respond to a law and order problem the previous night citing jurisdiction were being suspended.
Gesturing towards his desktop, Sood points to an image of a cluster of vehicles similar to the ones that show up on a smartphone when one books an Uber or Ola. "Right now, 70 Hoysalas are in mission mode and responding to complaints while the ones coded red are either having their designated rest or are parked somewhere waiting for the control room to call them."
Reading out statistics, the officer says from the morning, the city police had closed 156 events where Hoysalas responded and even as he explained, he pointed to the desktop which showed that those manning the control room were putting four Hoysalas on standby. On an average, 61 percent of the complainants called in are due to fights of all kinds, 12 percent due to family problems and 11 percent seek redressal for private nuisances like neighbours playing loud music or loitering in front of the caller's house.
Spending on tech
The Bengaluru police is spending Rs 20 crore on technology that will improve its response time and reach on social media. It has also received sanction to spend Rs 10 crore a year for the outsourced call centre.
The command centre also displays images on large screens from 150-odd CCTVs installed in trouble-prone areas of the city to keep an eye on crime and images from 170 traffic police cameras are also fed to the command centre. There are plans to increase the hi-definition pan, tilt, and zoom cameras to 560 soon, says Nagendra Kumar, DCP, control room.
All these steps are being taken to keep the city safe as well as improve technology that helps police reach people, Sood concludes.
Anil Budur Lulla is a Consulting Editor
https://yourstory.com
7,952 total views, 2 views today