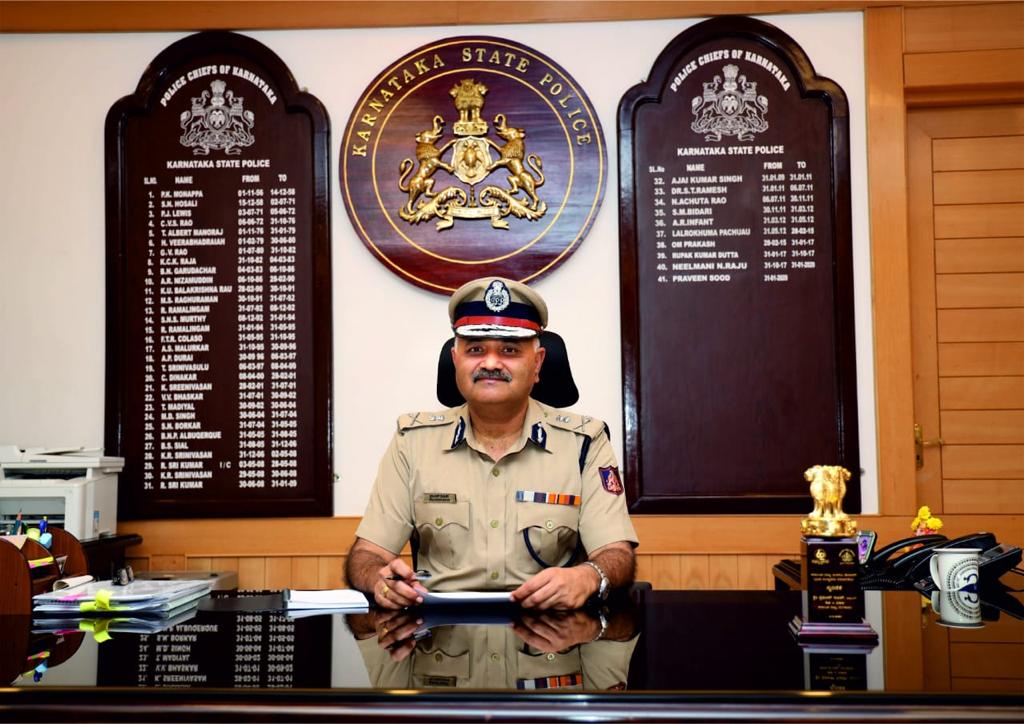 Praveen Sood, born in 1964, graduated from IIT Delhi, joined IPS in 1986 and started his career as Asstt. Superintendent of Police, Mysore in 1989.  He served as Superintendent of Police, Bellary and Raichur before getting posted to Bangalore city as Deputy Commissioner of Police, Law and Order.
In 1999, he proceeded to foreign deputation as Police Advisor to Government of Mauritius for 3 years .  He got exposure to European and American Police during his stint in Mauritius.
In 2003, he took a sabbatical for pursuing Post Graduation in Public Policy and Management from Indian Institute of Management, Bangalore and Maxwell School of Governance, Syracuse University, New York.
He was posted as Commissioner of Police of Mysore city during 2004 to 2007.  He focused on transforming haphazard and unregulated traffic situation in Mysore city through awareness campaigns, mechanical and engineering improvements and better enforcement.  He was also instrumental in arrest of Pakistan origin terrorists during his stint in Mysore.
He took over as Addl. Commissioner of Police of Traffic, Bangalore in Feb 2008 and continued till September 2011.  A strong supporter of technology driven traffic management, he is instrumental in establishing most advanced Traffic Management Centre at Bangalore city.
He has been decorated with Chief Minister's Gold Medal for excellence in service in 1996, Police Medal for Meritorious Service in 2002 & President's Police Medal for Distinguished Service in 2011.  Besides he is recipient of Prince Michael International Road safety Award in the year 2006 for his contribution towards road safety & traffic management and national E-Governance Gold Award for "Most innovative use of technology for Traffic Management" in the year 2011.
As Additional Director General of Police Computer Wing his immediate challenge was to implement CCTNS i.e. Crime & Criminal Tracking Network System all over Karnataka by networking all Police Stations up to Delhi and ensuring data entry and retrieval of all information in police stations and higher police officers online in real-time. He was instrumental in introducing mobile governance through SMS gateways for collection of fees as well as service requests from public. He was also nodal officer for delivery of services to citizens under Karnataka Guarantee of Services to Citizens Act.
As Commissioner of Traffic and Road Safety he was involved in replicating Bangalore model of technology driven traffic management to entire state.
During 2013-14 he took over as Managing Director of Karnataka State Police Housing Corporation and increased the turnover of the company from Rs 160 cr to Rs 282 cr in a short span of nine months.
Subsequently he worked as Principal Secretory, Home  Department, Additional Director General of Police, Karnataka State Reserve Police and Additional Director General of Police, Administration.
As Additional Director General of Police, Karnataka State Reserve Police and Additional Director General of Police, Administration he was instrumental in introducing large scale reform in the internal procedures of department as well as Promotions and Welfare at cutting edge level i.e. Constabulary.
As Commissioner of Police, Bengaluru city, launched  "Namma 100" an "Emergency Response System" for the citizens in distress. With 100 lines managed by multilingual "Communication Officers" 24 X 7, and support of 276 Emergency Response Vehicles (Hoyasala), spread all over Bengaluru City; he promised every call to be picked up in 15 seconds and every scene of distress to be visited by "Hoyasala" within 15 minutes.  "Namma-100" or "My-100" was receiving, on an average, 6000 calls a day with average intervention time of 5 second and average response time of 17 minutes within 3 months of its launch.
He was also instrumental in launching "Suraksha" App and "Pink Hoyasala" managed by all-women cops especially for the women and children in distress.
As Director General of Police, CID, Economic offences & Special Units, he has taken major initiative for better investigation and awareness for prevention of cyber crimes, which is going to be the biggest challenge in the near future. CID in collaboration with Infosys Foundation has taken a big step by establishing state-of-art "Centre for Cyber-crime Investigation, Training & Research" for creating capacity for investigation and trials of cyber crimes among police officers, prosecutors and judiciary.
Presently working as Director General & Inspector General of Police, (Head of Police Force) Karnataka.
131,732 total views, 14 views today